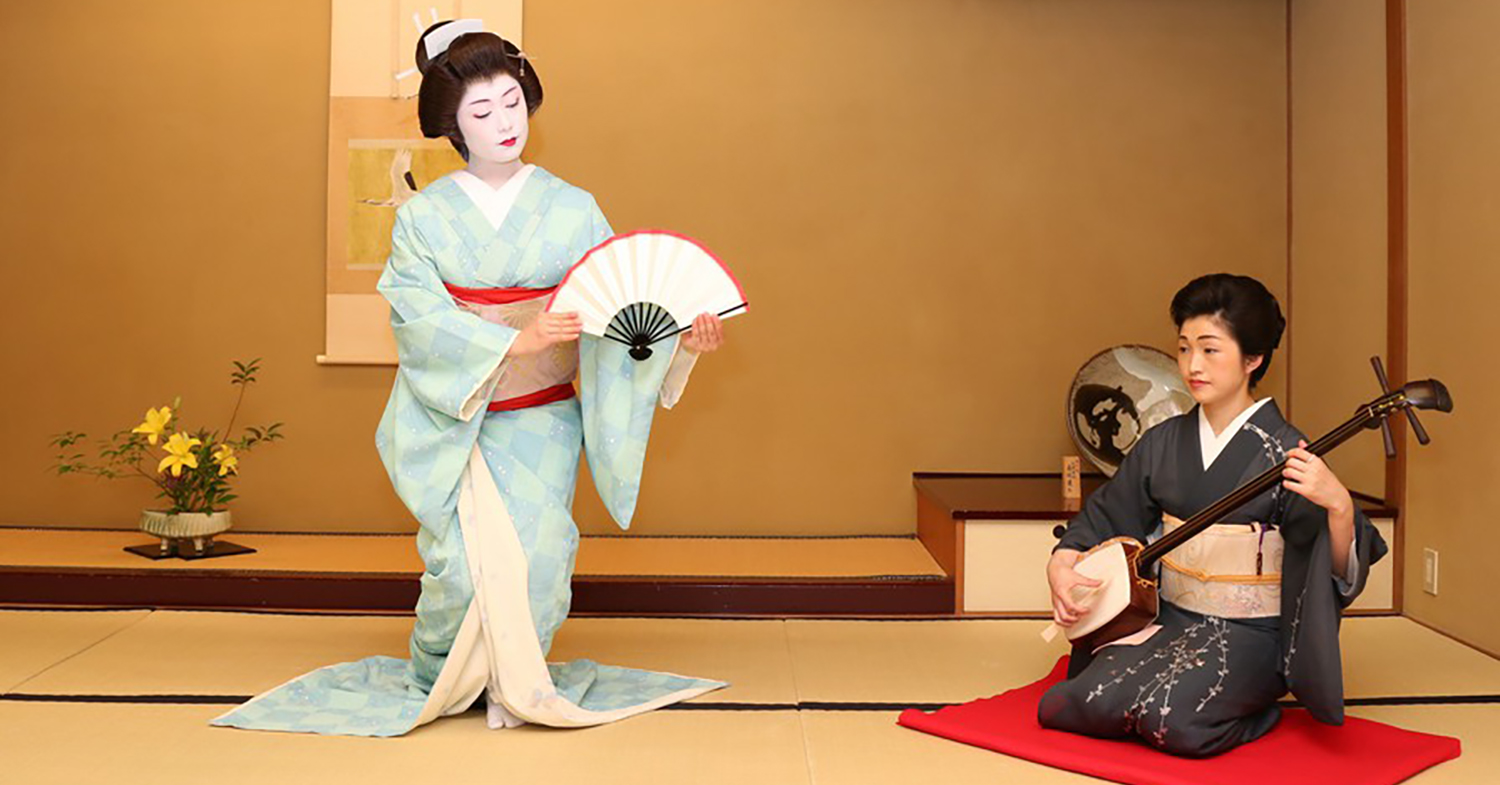 Other Traditional Cultural Experiences
Examples of useful information on various traditional Japanese cultural experiences
We can also arrange for a variety of authentic Japanese traditions carefully selected for our aesthetics.
Please contact us for details.
Arrangement fee: from 5,500 JPY per arrangement (tax included )
Dining on Kyoto Cuisine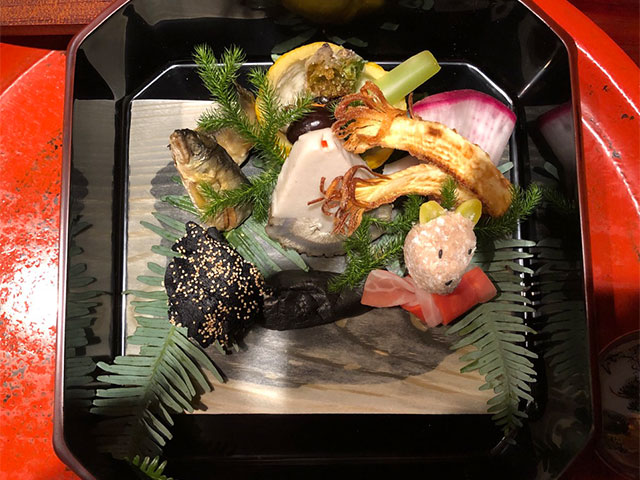 Kyo Ryori is a high-class brand of Japanese cuisine that was developed in Kyoto as the capital since ancient times, by adding Kyoto's ingredients, characteristics, climate, and climate to Kaiseki cuisine, which is the basis of Japanese cuisine (Japanese food).
It is a refined, lightly seasoned cuisine that makes the most of the flavors of the ingredients, and is characterized by the five senses, including not only the taste but also the appearance and atmosphere.
In the past five years or so, there has been a dramatic increase in the number of restaurants that serve inadequate food that is not called Kyo Ryori, so it is important to find a restaurant that serves genuine Kyo Ryori.
Ozashiki Asobi experience with Maiko and Geiko (Geisha)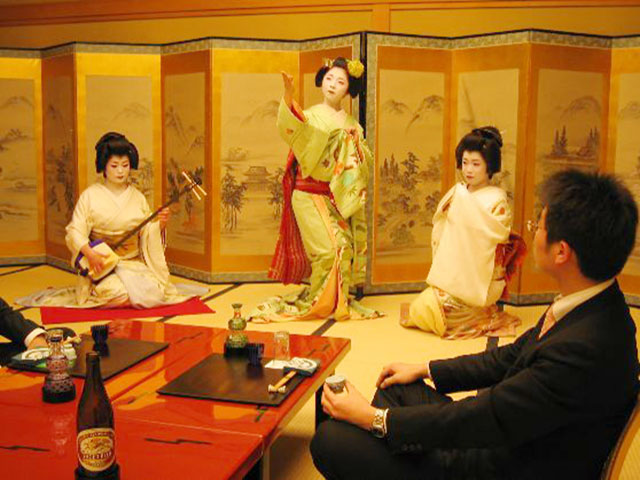 Authentic "Ozashiki Asobi" play with Maiko and Geiko (Geisha) in "Ochaya"
There are five "Hanamachi" (banquet district) with "Ochaya" (teahouse; private banquet house) where you can play with Maiko and Geiko (Geisha).
The district "Gion-Koube" is said to be the most prestigious of them all. No one are allowed to enter in "Ochaya" unless accompanied by person familiar with there.
Also, there are not a few "Ochaya" with bar and these bars are sometimes open to travelers only If getting a referral for person familiar with "Ochaya".
You may meet Maiko and Geiko (Geisha) there, who have finished their banquets. These days, tours are offered to play "Ozahiki Asobi" play with Maiko by inviting her to Kyoto Cuisine restaurant.
Therefore, travelers who have no contact to "Ochaya" also can easily experience "Ozashiki Asobi" play.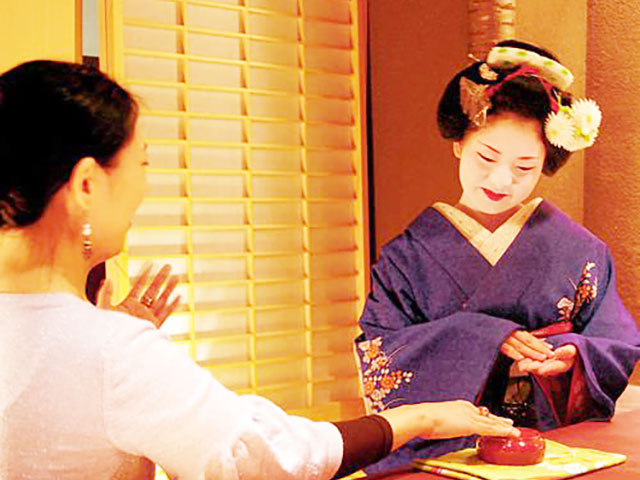 Playing with Maiko and Geiko (Geisha) in the bar attached to the "Ochaya"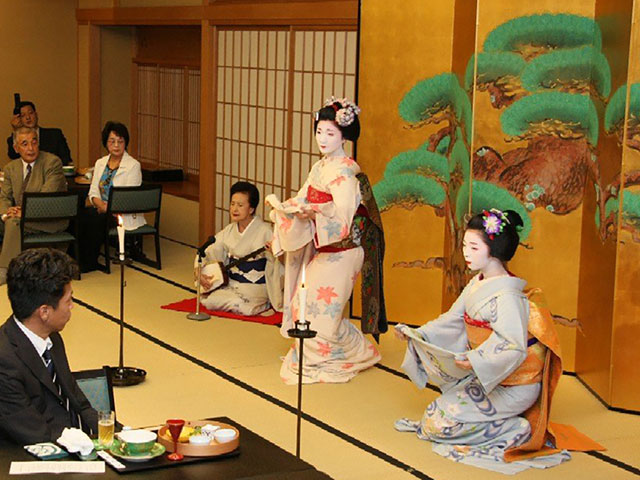 Joining the Tour offered to play "Ozashiki Asobi" with Maiko
Get entertained at a beer garden where you can meet maiko and geiko in yukata.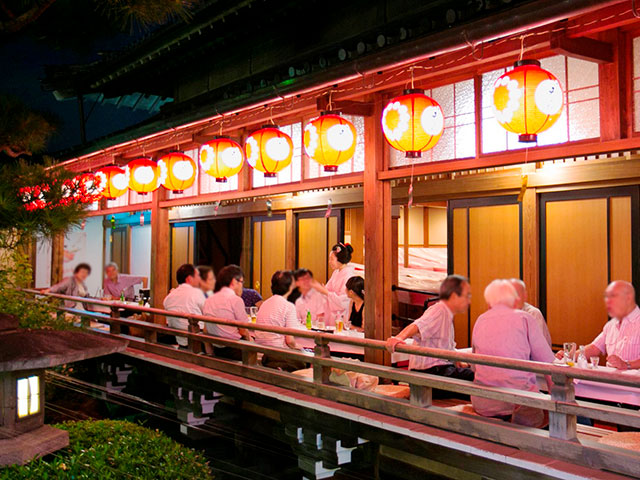 There are some beer gardens where you can meet Maiko and Geiko (Geisha) in Kyoto. Most famous and biggest beer garden is in Kamishitiken Kaburenjo near Kitano-tenmangu Shrine. Others are opened on the roof of the restaurant in or near Gion.
The beer garden in Kamishitiken Kaburenjo held from July 1 to first of September at the pier overlooking the Japanese garden. Maiko and Geiko, which consist of a total of six members, dressed in matching patterned yukata welcome you every evening. You can talk and take photos with them casually.
Reservations are not always required, but we recommend you booking in advance if you want to sit in a good seat.
Riding Sagano Romantic train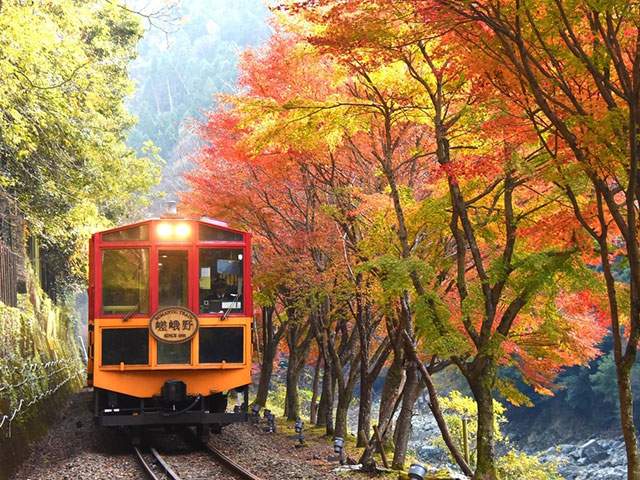 SAGANO Romantic Train
The trolly train pulled by a diesel locomotive runs along the Hozugawa Valley in 25 minutes between Sagano and Kameoka.
You can enjoy the ravine which changes its appearance from season to season: cherry blossoms in spring, fresh greenery in summer, red and yellow leaves in autumn, and so on. The Hozugawa River Cruise is recommended on the return trip from Kameoka.
Crusing Hozugawa River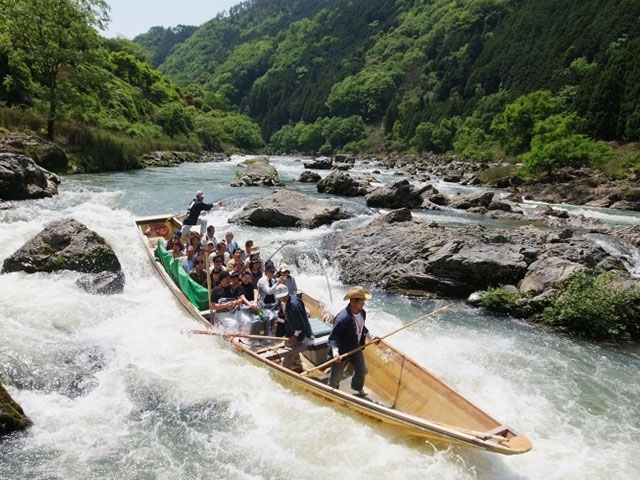 Hozugawa River Cruise is a boat ride down the Hozugawa Valley from Kameoka to Arashiyama.
You can enjoy the beautiful scenery throughout the four seasons: blizzard of cherry blossoms falling on the river in spring, fresh greenery and cool carol of birds in a clear stream in summer, red and yellow leaves in mountains in autumn and snowy valley seen from a heating Japanese style boat.
Watching "Kabuki" play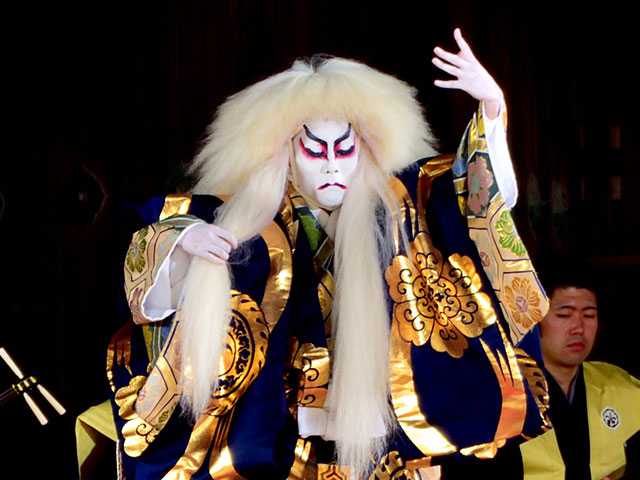 Performances are held three to four times a year at the Minamiza Theater located at the southeast corner of Shijo-Ohashi bridge.
It is particularly famous for annal show named "Kaomise", held from November 30 to December 26.
Watching "Noh" play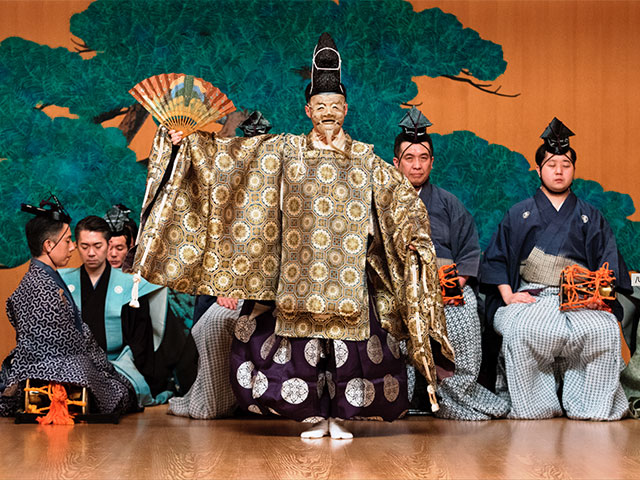 Performances are held two or three times a month (irregularly) at Kyoto Kanze Kaikan Theater near Heian-jingu Shrine, Ohe Noh Theater near Karasuma Oike and Kongo Noh Theater & Kawamura Noh Theater near Imadegawa Station.
You can check the performance dates on their website.
Watching "Takigi Noh" play with bonfire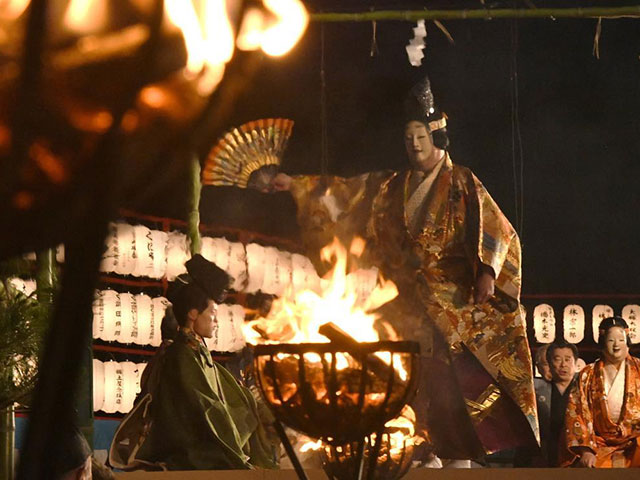 Takigi Noh is a Noh play performed with light supplied by bonfires at the outdoor stage set up temporary at night in summer season.
It is held on June 1st and 2nd every year in Heian-jingu Shrine as a feature of early summer.
The vermilion-lacquered shrine buildings are also lit up. Tickets will go on sale in late April.
Watching "Kyogen" play – traditional Japanese comedy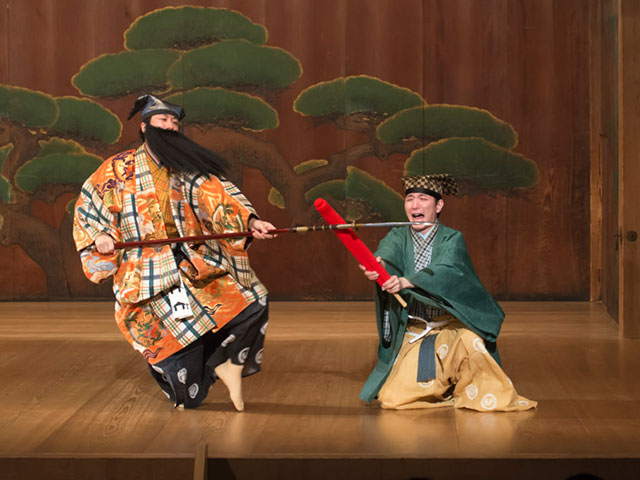 While "Noh" is a tragic musical drama with abstract and symbolic expressions and dance elements, "Kyogen" is a comedy with elements of mimicry and clowning which brings on the laughter through scenarios based on stories of failure and realistic portrayals of the human figure.
Watching several traditional performing arts at the Gion corner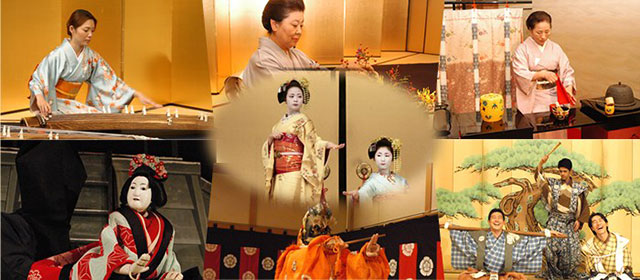 You can watch quick and easy performance of some traditional Japanese performing arts in "Gion Kobu Kaburenjo" Theater.
Tea ceremony performance, flower arrangement demonstration, Koto (Japanese harp) performance, Gagaku (Japanese court music) performance, Kyogen performance, Kyo-mai performance and Bunraku (Japanese puppet) performance are compacted into 1 hour.
Performance time: 1 hour each starting from 18:00 and 19:00. Everyday from 3rd week of March to end of November and only on Fridays, Saturdays, Sundays and holidays in the rest of the year. First-come-first-served basis, reservation is not required.
Zen Meditation Experience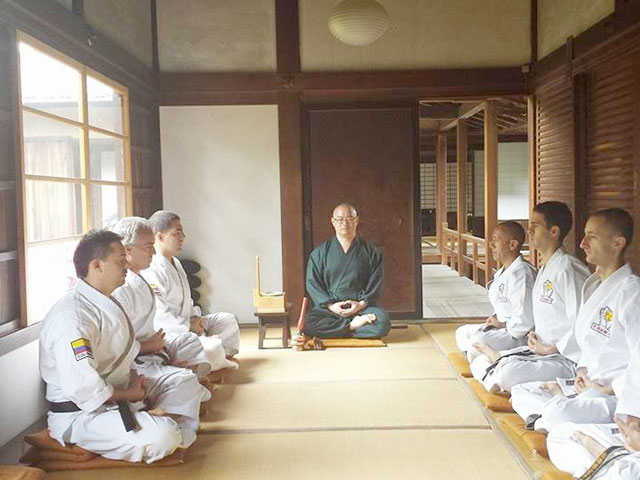 Zen Meditation experience in a Zen temple. Some Zen temples offer the experience in English.
Japanese food cooking experience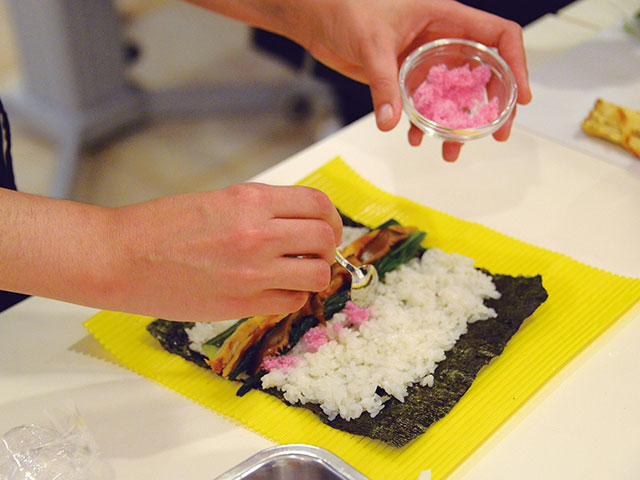 Practice cooking simple Japanese dishes which can be made when you return home.
Experience of cooking "Wagashi – traditional Japanese sweets"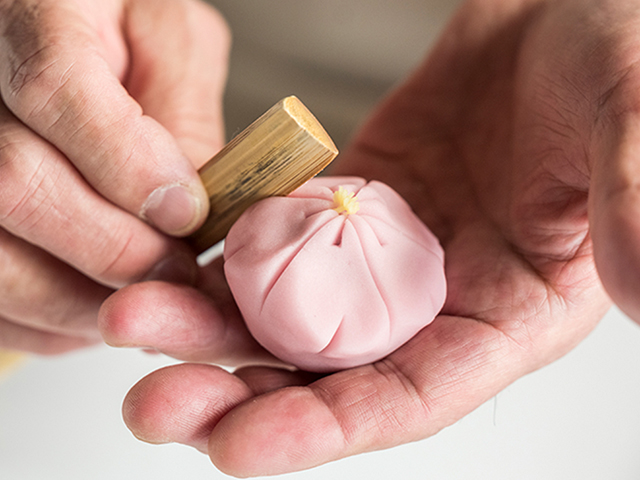 Making "Wagashi" under the guidance of a confectioner.
Juni-hitoe kimono dressing experience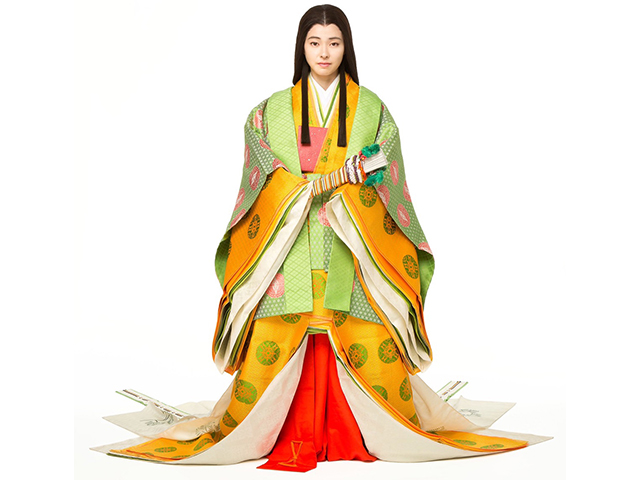 This is the experience dressed in "Juni-hitoe", noblewoman's costume of a twelve-hundred year old.
"Kenbu – dance with sword" experience dressed in Kimono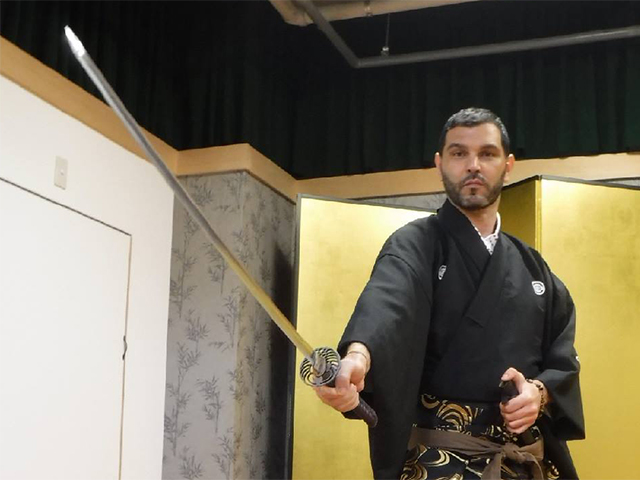 Experience of "Kenbu" wearing "Haori Hakama – traditional male costume. Female participants also wear will "Haori Hakama".
Bushido Experience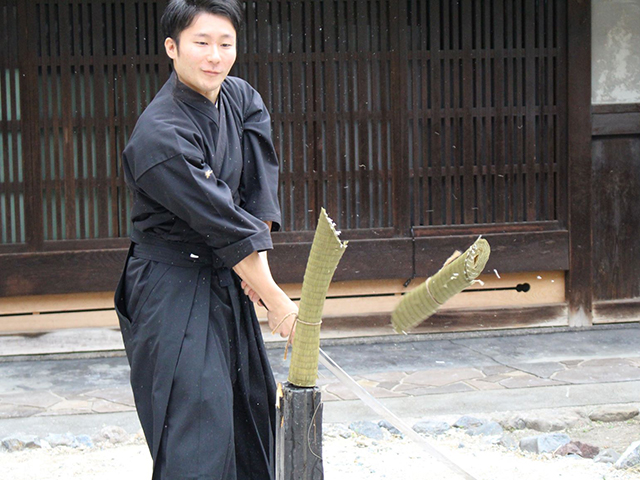 You will be able to see an authentic "Iaido" and test cutting in front of your eyes, after receiving a briefing on samurai, bushido and the sword.
Afterwards, you can wear a training suit of "Kobudo", hold a wooden sword and learn about swordsmanship.
Finally, you can try out the sword with a serious sword.
Ninja Experience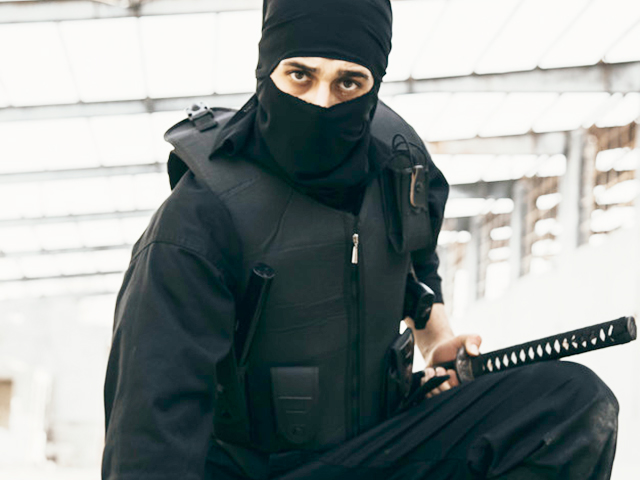 Dress up in Ninja costumes and practice Ninja skills.
Kado Experience- traditional Japanese flower arrangement Experience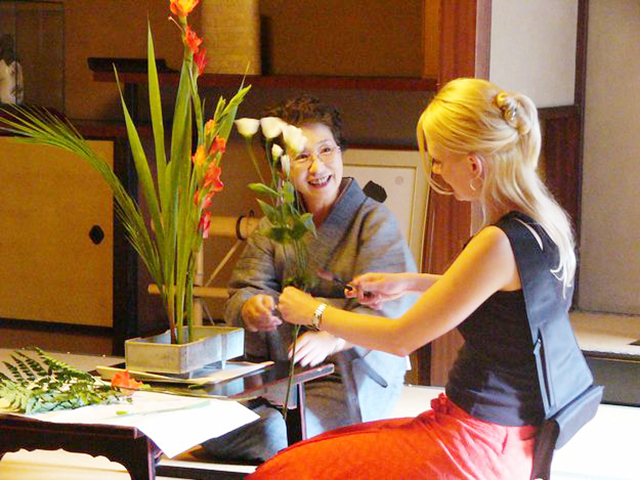 Experience traditional Japanese flower arrangement.
Koudo Experience – incense-smelling ceremony –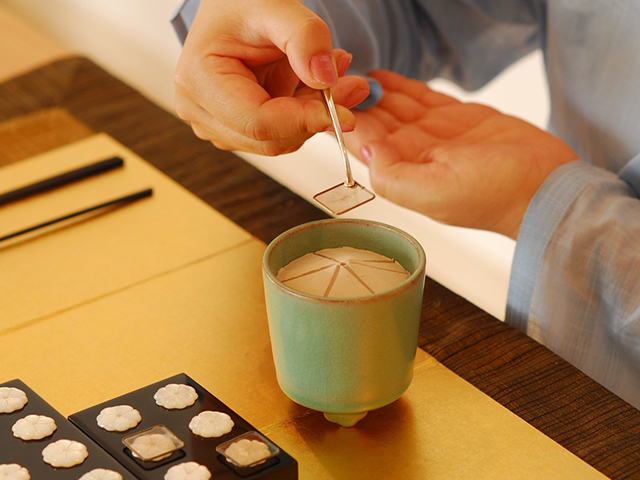 "Koudo" is the art of appreciating the scent of natural fragrant wood, such as agarwood, produced only in Southeast Asia.
It consist of the two element of the art, "Monkou", in which the audience listens to and appreciates the scent of fragrant wood, and "Kumiko", a game of distinguishing between different scents. You can enjoy "Monkou" in this experience.
Shodo Experience – Calligraphy Experience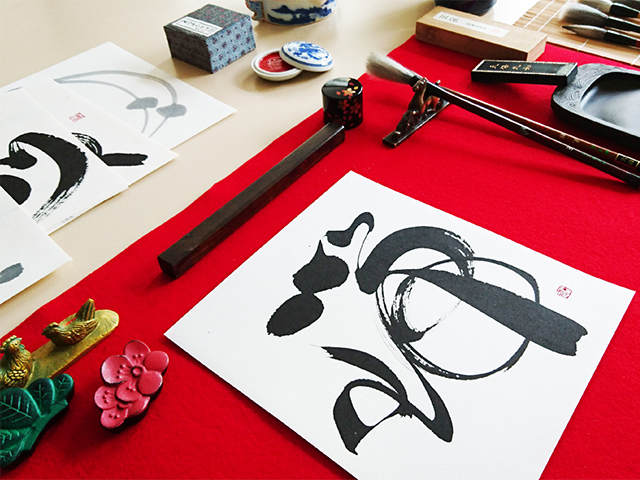 Use a brush to write your own ink letters on Japanese paper as you wish!
Tour of Nishijin textile workshop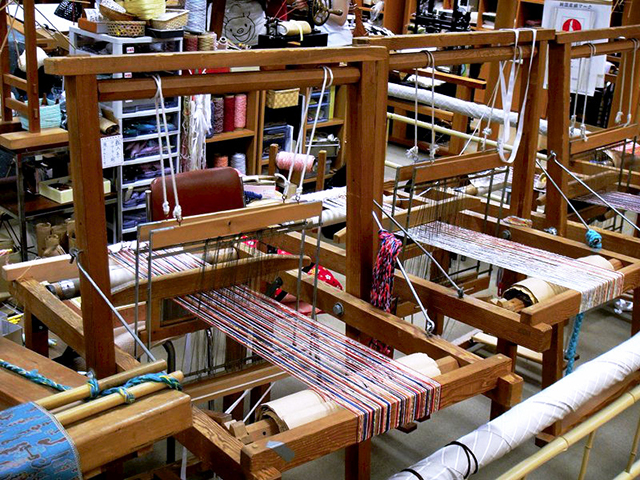 You will visit a workshop where Nishijin textile is produced.
You can also experience hand-weaving Nishijin textiles to make coasters.
Ceramic art workshop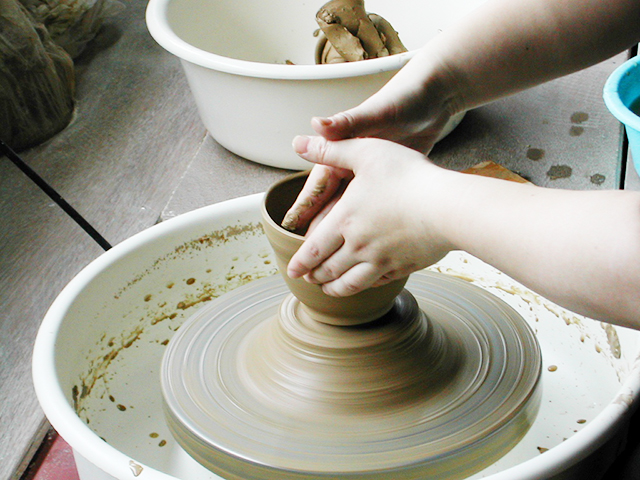 You can try your hand at pottery making by hand or on a potter's wheel.
Experience of making "Origami", one of a traditional Japanese paper craft.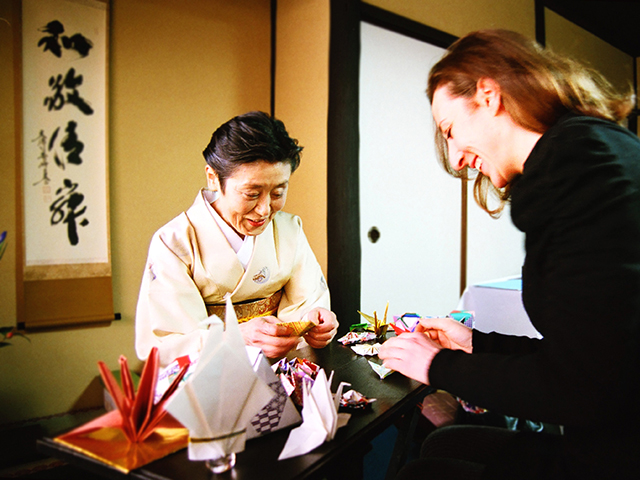 You can learn how to make a fold paper cranes and several other types of Origami in this experience.
Experience of making various kind of traditional Japanese crafts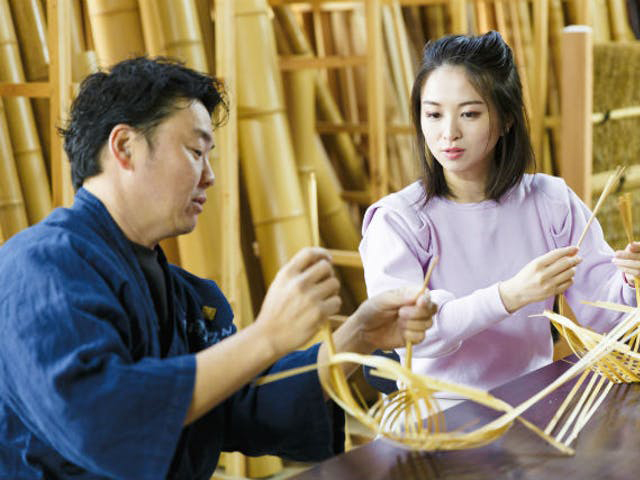 You can choose what you are interested in and try out making, from a variety of traditional Japanese crafts such as painting fans, "Kiyomizu-yaki" pottery, Kyoto lacquerware, dyeing "Kyo Yuzen", bamboo baskets, lampshades, pinch works, and other traditional crafts.
---