My personal recommendation for autumn leaves in Kyoto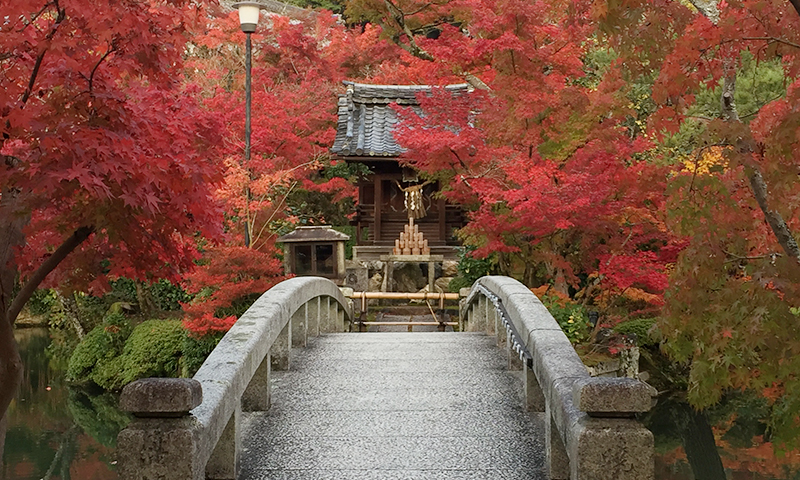 The peak of the autumn leaves in Kyoto used to be around the holidays in late November. However, recently, leaves are beautiful in mid-November or about the first week of December by unsettled weather, the peak has varied from year to year. You can enjoy the autumn leaves from mid-November to the beginning of December on the mountainside or here and there in Kyoto, so you may not be so concerned about the weather. Sunset on autumn leaves around 15:00 to 16:00 when the sun sets is very beautiful, also illuminated autumn leaves lit up at night are so nice. Nighttime worship has become an annual event at many temples at this time of year.
My personal favorite is those of Eikan-do temple, and I can't miss both in the daytime and under the lights every year. There are many other temples which I personally recommend, such as Koutou-in sub-temple in Daitoku-ji temple, Enkou-ji temple and Rurikou-in temple in Rakuhoku area, Sanzen-in temple in Ohara area, Tofuku-ji temple in Rakunan area, Jojakko-ji temple in Sagano area, Komyo-ji temple in Rakusai area, etc. It is just a shame that everywhere is so full of people these days that you can't look at them calmly. We also recommend lighting up the maple tunnel between Kifunaguchi Station and Ninose Station on Eizan Railway. Please enjoy it with visiting Kifune-jinja shrine and Kurama-dera temple.